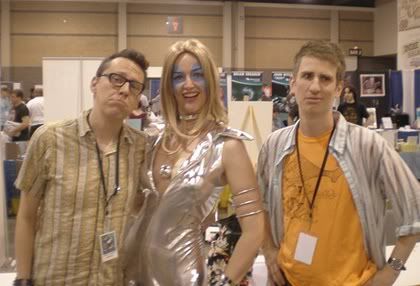 Oh, hello! I didn't see you there. I guess I was too busy reading comics to notice you coming to this blog. Y' see, it's hard for me to do much else but read funnies after getting back from Heroes Con.
Travelmates/bedbuddies Brad McGinty, J. Chris Campbell and I met up and made the trek up to North Carolina- Oh wait, is Charlotte in North Carolina? I'll have to ask our Father-figure slash roomie and all out organizer-for-us, Rob Ullman, when I get a chance. At any rate, we made the trek up to the greatest comic convention in the world, Heroes Con.  What makes it so great, you ask? Some nerve! Well, I mean like, besides the fact I get to see my favorite people in comics and/or world, I get more comics than I can shake a limited edition light saber sword at. Anyway, I am getting ahead of myself.
We came rollin' up in my '97 Corolla on Friday morning and decided to bite the bullet and park in a 20 dollar parking lot. I mean, like, dudes. We hadda lot of crap to carry, and I doubt you'd mistake Brad, J.Chris and I as people from your gym. (Rob Ullman, maybe, but still.) As it turns out, we didn't move my car for the weekend so we got to slip out on Sunday sans paying for parking. Looks like we won this round, Heroes. Haha!
Friday was a bit slow on sales for all of us, well, everyone I talked to, but honestly, I didn't notice. I don't even think I was behind the table all that much,leaving my good friend Shannon Smith to man the table we shared as I was making the rounds and seeing what's new with all my comic buddies. "Not much" was the resounding consensus. Comic people are so modest. I was pleased and surprised to see so many of my Athens pals (Robert Newsome, Patrick Dean, Joey Weiser, David Mack and Drew Weing) also seated in Indie Island. No wonder this show feels more like home that my hometown show ever does. Burn, Dragon*Con, burn!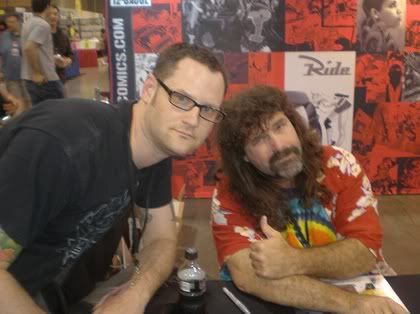 That night Rob, J.Chris, Brad, Shannon and I met up with another good friend and favorite person in comics, Ben Towle, and had a costly dinner at some Chinese restaurant. Well, costly for us poor folks. We discussed comics(duh) and the breasts of our waitress and how they were all hanging out and stuff. Later on, we had a screening of Brad's brilliant cartoons in the Dollar Bin suite. It always sounds funny to say, but sometimes I forget just how brilliant Brad really is. His cartoons slayed, and unlike last year, security didn't squelch our party down plans, and party down we did,man! We drank like it was going out of style, just like comics books. We all woke up with hangovers the next day and ahead of schedule. Oh well, what can you do?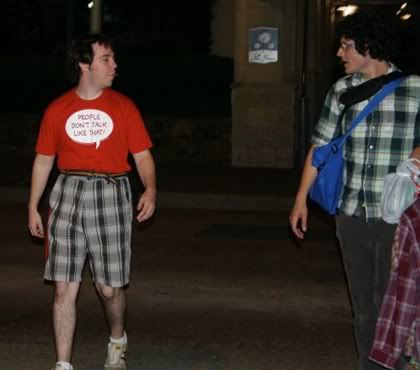 After a little hair of the dog, we got it together with some bagels and coffee and hit the convention. We got to see our pal, Ashley Holt, which of course, was really nice. Homeboy is smart.  Also, I got to spend time with my sister Sally Bloodbath and her boyfriend Matt Wiegle which was also very nice. Jeez, I need a thesaurus. Sales were pretty darn good, and I musta done, like, zillions of sketches.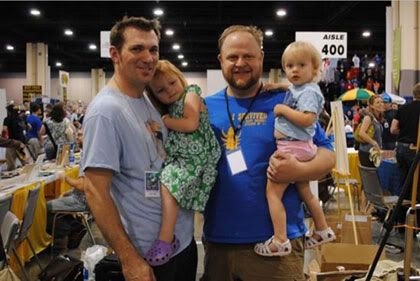 That night we made our annual trek to Phat Burrito where I got to spend some time with Sally, Matt, Liz Ballie, Jackson New Jersey's very own Meghan Ansbach and her boyfriend Lee. We mostly discussed records, n' things, which was a welcome change from the 34 hours of comic talk. Ah, who I am kidding? We talked about comics too. Also, during the course of the evening, Brad, J.Chris, Rob and I had a beer with Tom Spurgeon and talked about the Atlanta comic scene. Surprise, surprise. I had only negative things to say about it. I read Comics Reporter daily, so this was a highlight of the show for me.
Later on that night, I got a chance to smoke a little grass* with my man P. Cleland and another unnamed cartoonist.
*Just kidding. We'd never really do anything illegal on the top of a parking garage.
Sunday is my shopping day, so shopping I did. I bought some weird, wacky comics for a dollar a piece, like this weird Daffy and Roadrunner comic (all the Looney Tunes birds,together at last!) and some peak Carl Barks Uncle Scrooge comics, because I can't come home without duck books. Speaking of which, Boom! Studios was there with there new Disney comics, which I am a big fan of, especially the Euro duck stuff. Man, that's some cartoony goodness! I love it. Love it, I say. We need more like that. I heard a DuckTales book is around the bend.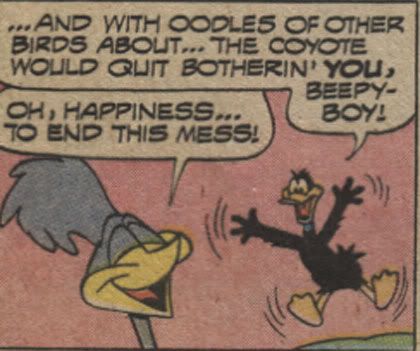 It's always depressing packing up after this show, and this year was no different. I would say though, without a doubt this was my best year at Heroes. The con was stress free, and I sold a metric ton of crap. What more can I ask for? This is sleep-away camp for nerds that never went to camp.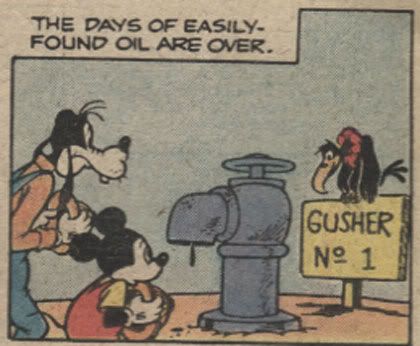 Welp, that's about it- Oh wait, I'd love to mention a few more fine people. Warning: more plugs than Steve Carell's hairline up ahead.
Ken Dahl, M.K. Reed, Evan Dahm, Pale Rider crew, Gabriel Dunston, Chris Pitzer, Dean Trippe, Jason Horn, Van Jensen, Rob Venditti, Travis J. Hill, Jamie Walker, Boom!, Tom Bancroft, David Mack, Dollar Bin Podcast (Adam,Ted, Brian, Kris, Devin, Brandon), Mr.Phil, Martin Steenton, Andy Ruton, Heather McKinney, Stephanie Gladden, John Miller, Chris Schweizer, Duane Ballenger, Rich Barrett, Erakis Pemeza, Shawn Daughhetee, Scott Elingburg, Justin and Jason Gammon and Jamie Ouzts extra special thanks goes out to my man Dustin Harbin for inviting me to be part of Indie Island. See ya next year, sucker.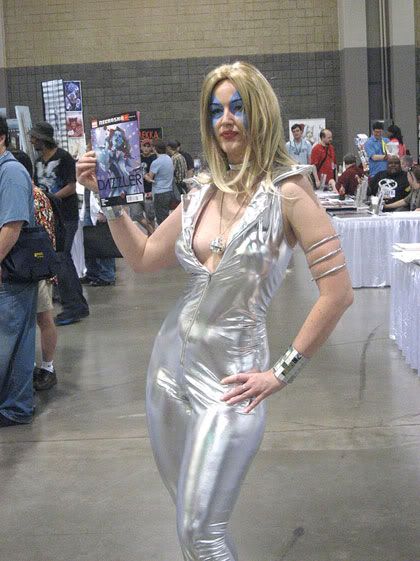 Tune in soon for more news on the next Rashy Rabbit!