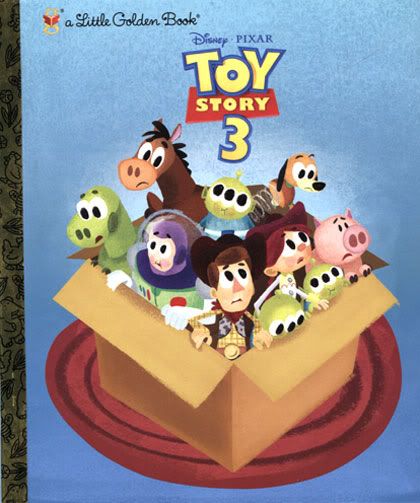 I am but a bitter curmudgeon.  I pretty much hate everything I am supposed to hate as well as plenty of things that I shouldn't.  I rant and rail against most modern institutions and pine for the days of yore that I didn't even experience first hand.  I mean, come on, if you don't see how much worse pretty much everything is today, then you aren't paying much attention. In fact, you are probably texting somebody right now, you @#$!
Of course, every now and again, particularly when I have been drinking, I let my guard down and give in to Pixar. Sure, they have never created anything as good as 'Dumbo', but I will give credit where credit is due, and I more or less, enjoyed every one of the films they've produced. Sure, some more than other (Cars being others) but, like it or not, they are the only animation studio that matters anymore.
I really liked Toy Story, despite the crude animation and, let's face it, somewhat bland designs. I mean, like, they work fine in motion, but when you see your 57th pair of Buzz Lightyear jammie jam jams, the appeal is certainly gone. Kudos to the fine folks at Golden Books for being the patron of the modern masterpiece known as 'Toy Story 3 : A Little Golden Book. '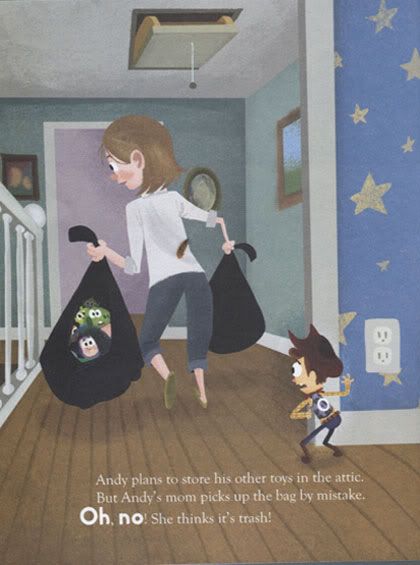 Masterfully hand illustrated (delightfully off-model) by Adrian Molina, this book leaped off the end cap at Wal-Mart (Yes, I do indeed, suck) and into my shopping cart (with one wobbly wheel.)  The colors are a lot more vivid than my scanner gives them credit for.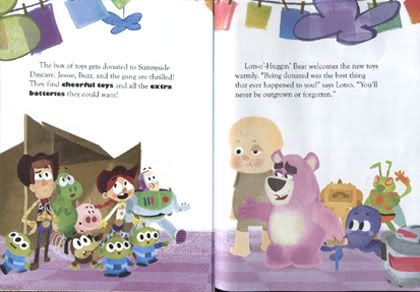 Oh my! Look at those squat proportions. Look at those large eyes with large pupils! If I had to define cartoon appeal, this would be it. Could you imagine if the whole movie looked like this?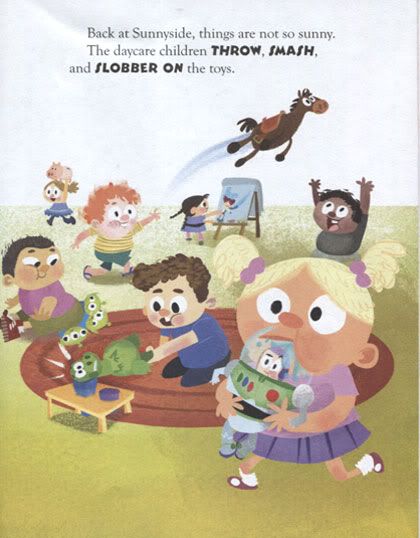 I am pretty sure this scene won't be as funny in the film. Look at that Buzz Lightyear.  I want him tattooed on my face.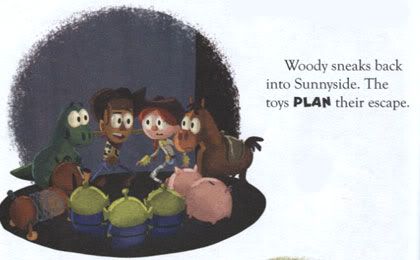 This is my favorite illustration in the book.  Great lighting on this scene. I love Woody's eyes. He sorta looks Dave Cooperesque here. (Meant as no slight to Adrian Molina. He is truly a rare jem of a talent, and only 24 years old too, ugh!)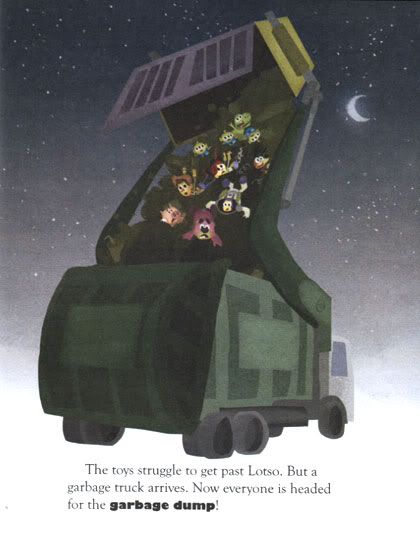 I love this composition.  Your eyes register the toys instantly, but the viewer still 'reads' the grime and trash, without looking cluttered and ugly. Why, even the garbage truck oozes with appeal!
How adorable! I want to crawl inside this book and live there forever.
In our conservative age of design, I think Disney and Pixar deserve extra credit for allowing what's essentially the biggest property in the world to appear this far off-model. I think it's good for kids, as it gives them the notion that there is more than one way to draw a slinky dog.
This book gets my highest possible recommendation.  Available at all Wal Marts and wherever fine pieces of art are sold.